One Mathematical Cat, Please! Ideas for Anyone Who Wants to Understand Mathematics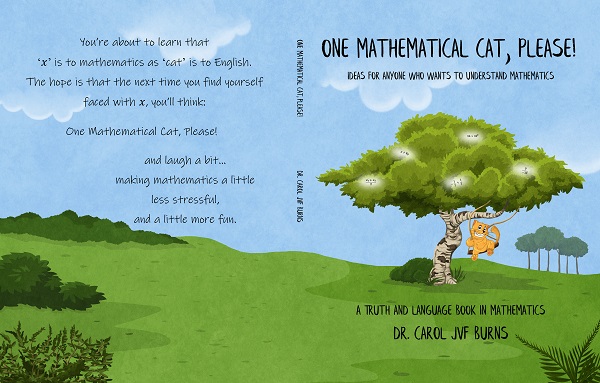 Want a fresh start on math? View it in a totally new way? Then read this little book.
I call it the 'cat-on-swing' book because of the print-version cover.
It can change your relationship with math in 142 easy pages. Read it for free below, or get a print copy at Amazon.
Note: If you want my entire Algebra course, then check out my cat-in-hammock book. The cat-on-swing book (discussed on this page) is embedded in the cat-in-hammock book, so you don't need both!
If you're using my higher-level materials (Geometry, Algebra II, Precalculus, Calculus) without having gone through my Algebra I course, then I highly recommend that you read the cat-on-swing book. It will quickly bring you up-to-speed with all the math language ideas you need to fully benefit from my lessons.
You'll learn that numbers have lots of different names, and math is the renaming tool. You'll learn that '$\,x\,$' is to math as 'cat' is to English. It's an easy read. If you can add, subtract, multiply and divide with numbers like 1, 2, and 3, then you can read this book.
Supplement any math class, 7th grade through college. Use for self-learners, home-schoolers, math lovers, math haters. Reviewers and users write:
"... wonderfully written and crafted with a care you rarely see"
"... will do a great service to the mathematical educational world"
"... the need for this book is immense"
"... I found meat, potatoes, and pie on every page. It's all dessert."
"... never seen anything so supportive and affirming and reassuring and inspiring as the way you talk us through topics"
"THIS IS GREAT!!!! . . . this is helping me get heads above the competition. You rock!!!! One Mathematical Cat drives me wild."
An entire website grew from this book. Free randomly-generated exercises. Free unlimited worksheets. Algebra Pinball. All the same style. All the same voice. All building on the ideas in this little book.
Here's a review of the cat-on-swing book.
Here are some of my testimonials from over the years.
If you have any questions, don't hesitate to contact me (Dr. Carol JVF Burns, author and website creator):
(the at sign)
(dot)
This email is a mix of graphics and text to try and foil spammers (sigh).
Read the Original Cat Book
(Cat-On-Swing)