homepage: Dr. Carol JVF Burns

See the Sewing/Crafts section of my main Table of Contents for other crafts projects!



I have a

bean soup recipe

that I've been making forever—it's delicious and fool-proof.

But, it can't easily be gifted in a jar, since it uses fresh ham, onion, carrots, celery, and lemon juice.

I wanted to offer an easy hearty meal that is completely self-contained (except for water).

After some experimentation, here 'tis!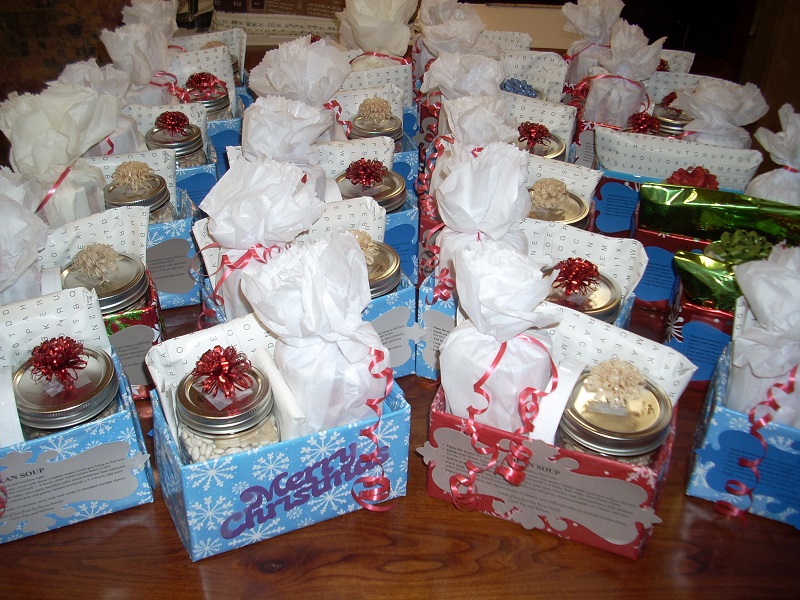 Mason Jar Bean Soup

(generously serves four people)

In a pint-size mason jar, layer ⅓ cup each of:

pinto beans
split green peas
great northern beans
black beans
light red kidney beans

Note: Walmart was much cheaper than Amazon for mason jars.

In a tiny bag, put:

1 tb minced onion
½ tsp celery seed
1 tsp chili powder
1 tsp garlic powder
¼ tsp lemon & pepper seasoning

Put the spice bag on top of the beans in the jar.
Put one Knorr extra-large bouillon cube on top.
Seal the jar.
Put a pretty bow on top of each jar.
(If you prefer, here's a tutorial for a festive fabric jar topper.)

Include (see suggested gift-wrapping further down on this page):

one 14.5 oz can diced tomatoes
one 5 oz can diced ham
muffin/biscuit mix

(Note: the needed salt is provided by the bouillon cube, lemon/pepper seasoning, and ham)

layered beans in pint-size mason jar;
spice bag and bouillon cube;
bow on top
Preparation (by receiver of gift):
From opening jar to eating: about 3 hours
Open the mason jar: Set aside the spice pack and bouillon cube.
Quick-soak beans: Rinse beans; put in 6 qt pot; cover with about 2 inches water; cover pot; bring to full boil; boil for 2–3 minutes; remove from heat; let rest (covered) 1–4 hours; drain water; return beans to pot.
Add to drained beans and stir well: 5 cups water, spice pack, bouillon cube, diced tomatoes, ham (drained).
Cook soup: Cover and bring to a full boil; reduce heat and gently simmer (covered) 1.5–2 hours; add more water (as needed) for desired consistency.
Enjoy! Beans should be soft, but not mushy. As desired, serve with sour cream or shredded cheddar cheese.

Loads of love from the Burns Family:
Carol, Ray, and Bethany
Bundle into a pretty package:
Cut ScanNCut Labels/Decorations:

I use my ScanNCut CM100 to cut the gift labels and decorations:

Create a tag with the preparation instructions and your holiday message.
Here is my printable tag.
(This html file can be pulled into any text editor and modified.)
Print it out on cardstock.
Here's the Scan-N-Cut file that is correctly sized/positioned for my gift tag.
(ScanNCut menus: pattern–gift boxes–tags–AR-K017, re-sized to 8" width)
I also cut a built-in 'Merry Christmas' on cardstock, for one side of the gift box.


my ScanNCut CM100:
used to cut out pre-printed tags
and 'Merry Christmas' decorations
on cardstock
Wrap diced tomatoes:


Supplies:
tissue paper
curling ribbon and regular scissors (for curling)
edging scissors

All wrapped, tops trimmed, and ribbon curled!

(I don't wrap the cans of diced ham;
they're hidden beneath the tomatoes in the gift package.)
Make and Decorate the Gift Boxes:

The instructions for making the wrapping-paper covered gift box are here.

Tape 'Merry Christmas' on one big side of the box.

Using three small pieces of rolled tape on the back, tape the greeting tag/preparation instructions on the other side.

Pack it all up in the gift box.
(I added some napkins, too.)
Give a lovely gift!!

tape 'Merry Christmas' on one side

use three small pieces of rolled tape
to attach greeting tag

the finished gift